Turbo-Beaver Ferry Flight


Travel Dialogue Continued

Alicante Spain: Second Fuel Stop

The desert crossing has to be IFR and to be legal we really need a working HF and VOR. So we had to lie our way into the air. We then told Tamanrasset that our HF must have quit again, but we would continue with the VHF. They accepted that. Below us we traced the ancient caravan routes etched out on the desert floor and visible for miles. Some ended in old French stone forts that still stood in the blazing heat. Some of the routes passed through the oasis towns. I-n-Salah and El Golea are two of our oasis check points. We are definitely IFR. "I follow (caravan) routes." If we have to put down at least we have the road to aim for.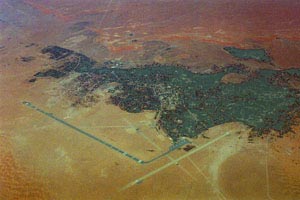 From 12,000 feet we could see the ancient trade routes worn into the Sahara.
El Golea is an important oasis, where the sand dunes encroach into the town.

Klaus and I are both concerned about crossing the Atlas Mountains. The name sounds so formidable, and even with the ONC maps showing the heights we remain concerned until we get closer. The mountains are not that high, but we still hit some serious drafts gaining and losing several thousand feet before we can recover. We actually run into some snow showers at 12,000 feet as we can see the back bone of the ancient Phoenician world spread below us.


We cross the coast line of the Mediterranean Sea over Mostaganem in an attempt to avoid the worst traffic of Algiers. Since we are lying about our navigation aids we wanted to make sure we are well off the beaten track. The GPS is working fine, however, and we are using it like a VOR.


The Mediterranean Sea is dark blue and the wind has whipped up some severe white caps. It is not the calm waters I remember from 1976 when I spent part of my summer driving along the Spanish Coast. We navigate up the coast for the city of Alicante which is to be our second destination fuel stop. We chose Alicante because of some flight restrictions into Barcelona and Madrid, and again to avoid the busy airports as ATC might make us stick to the IFR flight plan we filed.


Alicante clears us for a VOR approach to their south facing runway, but we ask for a visual. A long silence follows the request, before a second voice comes on to clear us for a visual approach. Even though the weather is crystal clear and the sky blue, they have not heard that request for a long time. We are glad to have made it to Europe. A beautiful dark hair Spanish lady wearing plenty of gold jewelry and a short black dress comes to lead us to customs. Klaus and I are in heaven. I fuel the Turbo-Beaver as Klaus goes for a smoke.
Southampton UK: Third Fuel Stop

Our next leg promises to me a lot easier so we take a leisurely breakfast of fresh baked buns and cheese. We get out of our IFR dilemma because in Europe we can file VFR. That does not prove easy, however, as not one person in the flight planning speaks English. Through lots of hand signals and pointing at maps we managed to file our route up the coast to Valencia, and then cross country toward the Pyrenees Mountains. Valencia hands us over to Barcelona, and they basically tell us, through ignoring us, that they could care less where we fly and what altitude.


We request 5000 feet to cross the Pyrenees, and Barcelona gives us a "why should we care" clearance. The only problem is that after the Atlas Mountains we underestimate the Pyrenees. We end up climbing to 9,000 feet to cross well west of Andorra and even then have to weave through a mountain pass to get through. The scenery is fantastic and we fly right past a ski resort nestled high in the mountains.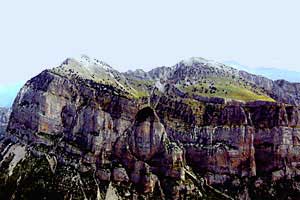 Climbing to 9000feet, we crossed the Pryrenees west of Andorra.
A thick fog blanketed France so we continue VFR on top.

As we cross into France, we realize that, after the language hassle, we had forgotten to get the weather enroute. Spain had been severe clear. France, however, was completely covered in fog. We called the Toulouse control and told them we were VFR on top. They could care less and assigned us our own frequency on which we heard maybe two other aircraft as we proceeded to fly straight across France. The same controller spoke to us in English, another aircraft in German, and another in French.


About the only communications we have is when control calls "5N-AXN" to warn us that we were about to enter a military zone. "Do not vary heading or alter altitude. You will have two Mirage pass under you in a short time." Sure enough two Mirage fighter jets swoop under us in a high speed pass across the country. We keep on our northerly heading until we break out over green fields between Tours and Nantes. Not right here, but close enough, this was the country side Billy Bishop flew and fought over in World War One. I was in awe. I had now flown in the same sky.


We left France over Saint-Malo, and flew just west of Jersey and Guernsey in coordination with the English air traffic control. They would not let us fly direct to our destination Southampton. But rather have us cross the English Channel toward Start Point just south of Dartmouth. (I had seen the Queen's ship, the Britannia, there one time several years ago.) Again the winds across the water are severe and the white caps are whipped up into a frenzy. The air is smooth, however, and we enjoy the crystal clear air and the incredible view from Land's End to Brighton.


I had picked our third destination fuel stop for a particular reason which to me was quite important. The port of Southampton was used in the testing and ultimate flights of some of the most famous of flying boats and floatplanes. Here the Supermarine S-IV, with it's almost 2000hp Rolls Royce R-series engine, had taken off in the protected harbor behind a sheltering island, to get airborne and reach the incredible world record speed of over 350 knots in 1931. I remember watching an otter pilot struggle with his transition from the 600hp P&W to the 1000hp "Polish" engine to get from 90kts to 122kts. Imagine taking your Beech18 up to 350kts. The only problem with the R-series engines was that they only had a 90 minute TBO reliability!


Here also was a major base for the majestic Sunderland Flying Boats. Southampton has a fantastic museum where you can see both of these wonderful airplanes and you can actually walk around inside the roomy flying boat's cabin and visit the cockpit. After flying such small floatplanes for so many years it is difficult to imagine the days of the flying boat. I can only dream of such a time. The time when the world did not have the airports to handle such large aircraft and they had to make their way around the world using harbors and waterways to land and takeoff in. My only regret was that we could not have attempted the entire trip from Africa to Canada on floats.


At the Southampton airport we are given a warm greeting by many airplane enthusiasts who have come out especially to see the Turbo-Beaver that had flight planned to come here. Considering the flight plan was filed only about 12 hours ago, I was surprised at the response. We were to find out, however, that in England there are a hard core of aviation enthusiasts who keep close contact with the authorities at all time as not miss such a rare sightings as a de-Havilland DHC-2T Turbo-Beaver in their territory.


After posing for pictures and signing their books we fuel up and then settle in for the night. The next day would be VFR straight across the heartland of England and up into the highlands of Scotland. This famous old port city is also famous for housing the "Mary Rose." One of Henry the eight's navy ships that never made it to sea. With all her big iron cannons, she was overly top heavy. She sank on her maiden voyage will all hands on deck. The beautiful ship has been raised from the bottom, and now can be seen in this south coast port.

The green green grass of England. What would Wordsworth have
written of us landing a floatplane in the Lake District?
Story and Images by John S Goulet

Aberdeen Scotland: VFR through the heart of Britain

The attitude indicator will take you back to the ferry flight introductin page.
Where all our flying is cross country.
Last modified on April 21th, 2013.
© Virtual Horizons, 1996.