Click here for > Nav Canada Aviation Web Site
Directly below is an automatically updated GMT clock. Just click "always" to accept and reset your Breitling Aerospace.
And use this phase calculator to reset the moon phase on your tide watch.



Virtual North

Explore the world of Canadian Fishing Lodges,


Resorts, and Adventure Tours. This is a technically


superb site that deserves your time and attention.


My Canadian Logbook is the best long term investment that you can make for your

aviation career. This online flight log will track your flying hours, just like your paper

logbook, but also make the process much easier while allowing you to automatically

break down each aircraft type and category according to your personal preference.

Check here for the American version as well.

Aviation Jobs Worldwide


Jobs for pilots, flight attendants, ground crew and other aviation


professionals worldwide.

Bush Pilot Tour


Tom Claytor is a fascinating bush


pilot flying a C180 around the World.


His writing is superb and well worth the read.

Owens Foundations for Wildlife Conservation


Mark Owens used his bush flying skills extensively


to protect the African wildlife from poachers and


mismanagement. Visit this site to find out more.

Take Flight Video Productions


The Makers of The Real Life Aviator Video Series.

CanadianAviation.com


Canada's Home to Aviation on the Net.

Robert Taylor


Award Winning Nature Photography.

Rich Hulina


Award Winning Aviation Photography.

Aviate Communicate


Aviation Language Proficiency Training. Teaching non-native


English speaking pilots and controllers Aviation English.

Air Transport Consultant


Aviation Consultancy for Helicopters and Fixed-Wing Operators.


Specializing in Safety Audits and Risk Management Assessments.

All things Aviation and All things Canadian.

Floatplane Pilots


This site is dedicated to all floatplane pilots past, present and future. We welcome


both private and commercial pilots, as well as others with an interest in float flying.

Bush Pilots of Alaska


"This is a book about American Spirit, about romanticism and realism, about a land so

big and beautiful it defies description, and about men and women who love nothing

more than to climb into their small planes, turn over the prop, and fly over that endless

land."


Note from the Editor.

Virtual Horizons is affiliated with the above companies and personnel only for purposes of promotion. We do not claim to share the views or aims of their publications.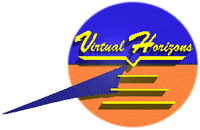 The attitude indicator can take you back to the Virtual Horizons Home Page.
Editor John S Goulet
Last modified on June 24, 2013
(c) Virtual Horizons, 1996.